Whip cream chargers refer to a steel-based cartridge that comprises Nitrogen dioxide gas, which is of food-grade quality. Whip chargers play an essential role in the production of whipped cream. Whether you are a home cook or a professional chef, it is the most exceptional and relevant kitchen equipment to possess. The demand for the whip cream chargers increases daily since there is no limit to the enjoyable fresh whip cream.
When picking up the best and perfect whip cream charger you should consider different features including; the durability of the structure whose body should be made of heavy-duty metals such as steel or aluminum. You should also consider the quality by checking that the nitrogen oxide used is safe for the preparation of foods. It's also crucial to look at the volume capacity of the chargers. You will find that an 8-gram N2O whipped cream charger is suitable for bar, home, and restaurant use.
You must consider the brand before making any purchase and always go for a reliable brand by reviewing its cons and pros. Consider the recyclability of the whip cream chargers as not all are recyclable, and be sure to choose one that you can recycle. When using a whip cream charger you need to consider the safety measures. These include; not keeping the cream charger cartridges within the reach of children. Moreover, it is essential to use the right equipment to pierce the seal of the cream chargers properly and safely.
Using whip cream chargers is beneficial as it enables you to make different varieties of creams that are bound to make your delicacies more attractive to the eye and the palate. Let's take a look at the best 5 whip cream charger brands to improve and expand on your choice and experience during the next purchase.
1. SmartWhip whipped cream chargers
This is a brand that uses state-of-the-art technology in its production ensuring the chargers are of the highest quality. The brand distinguishes itself from competitors by thoroughly cleaning all its chargers from the traces of any industrial oil, for your safety and quality standards. SmartWhip is credited for its flavor, which is better compared to other whipped cream you can get in the market.
The SmartWhip chargers are compatible with majority of the standard whip cream makers, allowing you to make fluffy and firm homemade whipped cream that you can use to decorate desserts and make drinks or put on top of ice cream or coffee.
2.  The 580g Great Whip Cream Chargers
The GreatWhip whip cream chargers are high production containers, and they have more nitrous oxide than the 8 gram whip cream containers, hence offering you better efficiency and greater performance in the kitchen. It has a power pressure regulator that enables you to easily adjust the working pressure to suit your needs and offers you the utmost precision and control. The nitrous oxide tank of 580 grams has a variety of uses ranging from an infusion agent for spirits and enticing cocktails or making delicious foams with a hint of sweetness that is irresistible, making your kitchen environment manageable and well-organized.
3.  Best Whip Whipped cream chargers
Best Whip is renowned for its quality and reliability The Best Whip chargers are known to meet all the food-grade standards, which include NFS/ANSI 18 and ISO 9001. They are also renowned for having a German to- mark certificate. The brands' chargers ensure excellent taste and no odor since they contain pure nitrous oxide (N20). The chargers are efficient and you can use them at home or in a restaurant. The finest whip chargers are versatile, reliable and are harmonious with several cream whippers available in the market.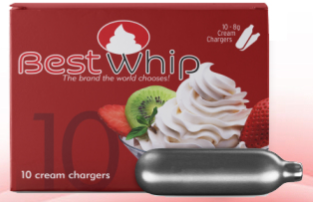 4. Creamright Ultra-pure Whip Cream Charger
The Creamright Ultra-pure whip cream chargers are renowned as they are produced in one of the most recent facilities in Europe and meet all the required standards. The packages contain 240 chargers with a capacity of 8g. It has a long shelf-life, and you can, therefore, make use of them within five years. The charger is designed to meet your needs both for commercial and home use.
These chargers are compatible with all ordinary 8g whip cream makers allowing you to combine them with any brand of the dispenser you may have. The company designs each cartridge to contain at least 8 grams of pure nitrous oxide that is manufactured in either Belgium or France, with all the cartridges sealed electronically and weighed. The chargers are costly compared to others. The brand distinguishes itself from its competitors by coating the chargers with high-build paint for extra protection. It ensures your whipped cream has no altered taste or odor.
5. Blue Flag Chargers
These chargers are food-grade chargers that are crafted with recyclable materials .This brand of chargers comprises 8 grams of nutritional NO2, with each of them capable of producing about two cups of delightful whipped cream. The cartridges are created in trademarked facilities, ensuring they contain no metal remains or leave any oily residue. The brand distinguishes itself from the rest by guaranteeing the safety of the chargers and its ability not to change the flavor of your cream.
Additionally, the compatibility of the Blue Flag containers with all average 8 grams cream whippers enables you to use them with whichever brand you may already own. The canisters are credited for being 100% recyclable stainless steel, with the nitrous oxide being of the highest quality and purity. The brand's quality assurance system, its easy setup, and use ensure its efficiency and manageability in the kitchen. Additionally, if you experience any challenge with this product, the customer support is very supportive.
You should now be well equipped to make a knowledgeable decision and choose your favorite whip cream charger for your needs the next time you need one.