Description
Are you in need of high-quality cream chargers for your culinary creations? Look no further! Our 615G N2O Tanks Cream Chargers Carton with Pressure regulator is the perfect solution for professional and home use. With a combination of discount packaging available in the US and UK, you can enjoy great value for your money.
Key Features
Discover the key features that set our 615G N2O Tanks Cream Chargers apart. From superior quality and ultra-pure N2O to easy-to-use nozzles and compatibility with the GreatWhip pressure regulator, these cream chargers are designed to enhance your culinary experience. Here are some of the features:
Superior Quality: Our 615G N2O Tanks Cream Chargers are meticulously hand-packed and checked to ensure superior quality. We take pride in delivering a product that meets the highest standards of excellence. Each charger undergoes rigorous quality control measures to guarantee that you receive a reliable and top-notch product.
Ultra-pure N2O: In culinary applications, purity is of utmost importance. Our cream chargers are filled with ultra-pure N2O, which undergoes testing to ensure a purity level of 99.9%. This high purity level guarantees you the best results in your culinary creations. You can whip up delicious whipped cream, mousses, sauces, and more with the confidence that the N2O used is of the highest quality.
Chemical Taste and Odor-Free: The absence of any chemical taste or unpleasant odor is crucial when enhancing your dishes' flavors. Our 615G N2O Tanks Cream Chargers are designed to be free of chemical taste or bad smell. This means that the true flavors of your culinary creations will shine through without any unwanted aftertaste or aroma, ensuring a delightful dining experience.
Long-Lasting Durability: Durability is essential, especially for frequent use in professional settings. Our cream chargers are coated with a high-quality material that improves rust prevention, ensuring longevity and durability. They are built to withstand regular use without compromising performance. You can trust that our cream chargers will continue to deliver excellent results over an extended period.
Safe to Use
The Nitrous Oxide Tank Pressure Regulator has been rigorously tested to meet high standards in gas release pressure, safe, and airtight.
Quality Assurance
Pressure Regulator has passed various verifications with quality assurance, which guarantees maximum safety.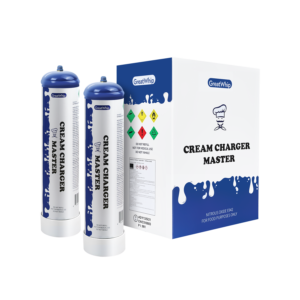 Shipping & Delivery Info
Please allow up to 1-2 business days for your order to be processed.
DPD, UPS, FedEx, or USPS services are available based on your shipping contents and address.
Shipping times are estimated and may vary depending on the distance of the shipping address.
For further shipping questions, please feel free to contact our Customer Service Team.