Description
The 640G Whip Cream Chargers Aluminum N2O Tanks are the perfect solution to elevate your culinary creations to the next level. Designed with precision and quality, these N2O tanks are a must-have for professional chefs and home cooking enthusiasts. Whether you're looking to whip up fluffy desserts or create artistic presentations, these chargers are your secret ingredient for success.
GreatWhip Platinum – 640g Cream Charger Cylinder, the lightest nitrous oxide tank ever, has been added to our N2O cream chargers catalog!
50% less weight than before, highly portable
Its sleek design makes it look smart on your kitchen or bar counter
Food-grade N2O purity tested at 99,9% with high standard
No substance taste or smell from the aluminum bottle
Superior resistance against corrosion and rust
640G is made of aluminum material bottle, without any oily smell, lighter, not rusted, and recyclable. In the process of using whipped cream chargers, it is more comfortable and convenient for cream making.It is currently the most comfortable whip cream charger, more environmentally friendly, more recyclable, and in line with international standards.
The nitrous oxide N2O used in the cream charger is food grade, so it is safe for use as a dessert tool. The food-grade N2O gas is well-kept in the steel cylinder and will be safe to use for years to come.New batch of 640G cream chargers with upgraded gas, higher purity, far exceeding food standards.
Compared with 8g whip cream canisters, it will be more convenient and efficient. There are more ways to use it, providing a better baking and kitchen experience.
*Ships from the US warehouse, temporarily only for the US market
*Please allow up to 1-2 business days for your order to be processed.
*DPD, UPS, FedEx, or USPS services are available based on your shipping contents and address.
*Shipping times are estimated and may vary depending on the distance of the shipping address.
*For further shipping questions, please feel free to contact our Customer Service Team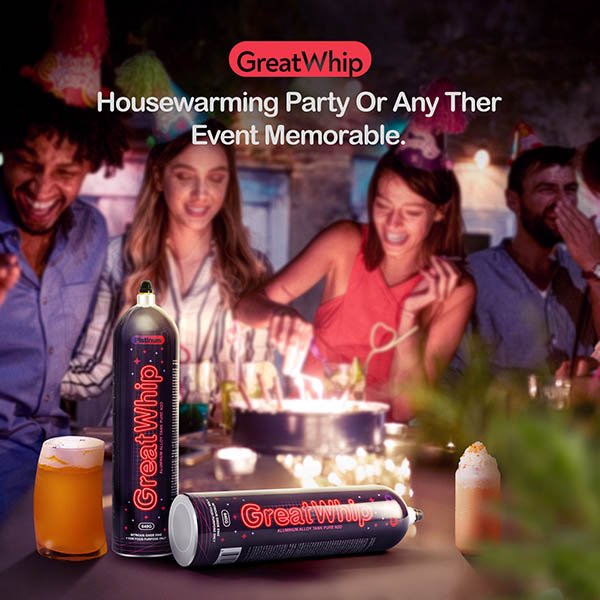 Key Features
Designed to elevate your culinary creations, these chargers offer high capacity, premium quality, ease of use, guaranteed purity, versatile applications, and long shelf life. Here are some features that make 640G Whip cream chargers aluminum N2O tanks:
100% Aluminum Construction: Our 640G Whip Cream Chargers are constructed using 100% aluminum. This design choice offers several advantages, including lightweight handling and ease of use. Aluminum chargers are lighter than their steel counterparts, making them convenient to work with during whipping.
Superior Quality Checked: We prioritize quality at every step of the manufacturing process. Each whip cream charger in the pack undergoes rigorous quality checks to ensure it meets our high standards. This attention to detail guarantees you a superior quality product, providing peace of mind and consistent performance.
Ultra-pure N2O Filling: Our 640G Whip Cream Chargers are filled with ultra-pure N2O, which has been tested to achieve a purity level of 99.9%. This high level of purity ensures optimal results in your whipped cream creations. The ultra-pure N2O guarantees that no impurities or contaminants may affect the quality of your whipped cream.
Easy and Controlled Gas Release: With our whip cream chargers, you can effortlessly release the gas in a controlled manner. The charger's design allows for easy and precise gas release, ensuring you have full control over the amount and consistency of the gas being released. This feature is especially important for achieving your whipped cream's desired texture and smoothness.
Order Now and Elevate Your Culinary Creations
Don't miss out on the opportunity to take your culinary skills to new heights. Order the 640G Whip Cream Chargers Aluminum N2O Tanks today and discover the wonders of perfectly whipped cream, delightful mousses, and so much more. With their high capacity, premium quality, and versatility, these chargers are the ultimate companion for every aspiring chef. Place your order now and indulge in the art of culinary excellence.