8G Whipped Cream Chargers
Cream chargers are available in different sizes, and the most popular one is the 8g cylinder. This is the smallest size you can find on the market. Each eight-gram cylinder is filled with eight grams of nitrous oxide.
The small standard size is universally compatible with most whipped cream dispensers in the industry. In other words, 8-gram canisters can be used interchangeably with cream whippers from different brands. These cream chargers will help boost the flavor profiles of your topped desserts and infused beverages and dishes.
8g cream chargers are usually sold in packs of 10, 24, 50, 100, and 600 wholesale with wonderful flavors choices that will best suit your culinary innovations as well as preferences. 
580 Whipped Cream Chargers
The latest version of whipped cream chargers is available in 580-gram tanks. When compared to the traditional nitrous oxide cylinders, these new larger cream chargers contain eighty times the amount of the smaller cartridges.
This is a very good thing for the consumer in more ways than one. First, you get to save time when creating large amount of whipped cream. You don't have to keep on screwing and unscrewing the charger holder on your cream whipper head every few minutes to charge the whipped cream dispenser with a new N2O cartridge. All you've got to do is add more pressure as needed.   
Second, one tank of N2O is more economical than a wholesale pack of 8g cream chargers. A culinary business can save a lot of money with a single pack of six 580g cream chargers.
What is a Whipped Cream Dispenser?
A whipped cream dispenser or a cream whipper is a device that is uniquely designed to create whipped cream.
Although a whipped cream dispenser is intended for creating whipped cream, this amazing kitchen appliance is widely used in the preparation of alcoholic cocktails and other drinks like Pina Colada. A cream whipper has two main parts, the bottle, and the head.
The head is the most important part, which contains the cream charger holder and piercing pin for charging the dispenser. The head also contains the lever and the nozzle for releasing whipped cream.
Top 10 Whipped Cream Charger Recipes You Can Use
These are our top whipped cream charger recipes we think you should try.
Whipped Cream
To make delicious whipped cream using nitrous oxide chargers, you need liquid whipping cream, powdered sugar, and two to three cream chargers.
Add the correct portions of the ingredients into the cream whipper and seal the head. Detach the charger holder, add one eight-gram N2O cartridge, and reattach the charger holder to inject nitrous oxide into the dispenser. You can add a second cartridge, depending on the amount of liquid whipping cream you've got in the dispenser.
Shake the dispenser to effectively mix the N2O with the fats in the liquid whipping cream. Attach the ideal nozzle to the cream whipper and start creating whipped cream.  
Whipped Chocolate Mousse
The second amazing cream charger recipe is chocolate mousse. And you will not believe how simple this is to make as long as you've got the right ingredients. The first thing you need is some chocolate, such as dark, milk, and white. Then add some hot water to each portion of chocolate. Microwave for thirty seconds and then stir for a smooth consistency.
Do the same with the milk and dark chocolate. Pour the three chocolate portions into your cream whipper and charge the dispenser with one to two cream chargers. Shake the dispenser bottle to properly mix the gas with the ingredients. Use a tulip cream whipper attachment to create a delicious chocolate mousse. 
Coconut Dairy-Free Whipped Cream
https://youtu.be/xh4jG-C9hxI
You are probably wondering what coconut dairy-free whipped cream is. It's simply a dairy-free substitute for classic whipped cream.
So, instead of using heavy whipping cream, you should use chilled coconut cream or full-fat coconut milk. Add the coconut cream to your whip cream dispenser followed by powdered sugar and vanilla extract. Charge your cream whipper with one to two 8g culinary-grade nitrous oxide cylinders. Shake the cream whipper ten to twenty times to mix the coconut cream, powdered sugar, vanilla extract, and nitrous oxide gas.
Use a straight or tulip whip cream dispenser nozzle to top up desserts with your coconut dairy-free whipped cream.   
Magic Coffee Whipped Cream
This is one of the best cream, charger recipes for coffee lovers. Instead of using the traditional method of an electric hand mixer, you can use a whip cream dispenser.
Start by preparing the ingredients. You need about 20 grams of instant coffee crystals, around 200 grams of sugar, and about 5 ounces of ice water. Use a mixer to beat the ingredients for a few minutes to get the right consistency.
Then pour the mixture into a cream whipper and infuse it with 8 to 16 grams of nitrous oxide. Use your preferred whip cream dispenser nozzle to serve a glass or top desserts. 
Whipped Greek Yogurt Pudding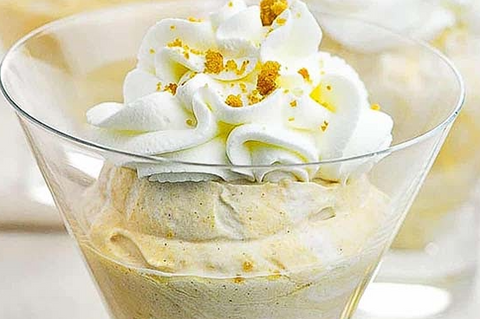 Make a glass of delicious whipped Greek yogurt the easy way. For this recipe, you need two cups of Greek yogurt, 2/3 cup of heavy cream, 1/2 cup of Dutch-processed cocoa, 1/4 cup of maple syrup, 1 tablespoon of vanilla extract, and 1/2 teaspoon of kosher salt.
Use a hand mixer to briefly beat the ingredients to create a smooth consistency. Add the mixture into your whip cream dispenser and charge it with two cream chargers. Shake the dispenser bottle to properly mix the gas with contents. 
You can serve in a glass or you can use it to top your pie, cake, and other desserts.   
Pina Colada
One of the most refreshing cocktails that you can make with the help of cream chargers is Pina Colada, especially since it is so easy to make. This amazing cocktail originated in Puerto Rico in the 1850s.
You just need four ingredients to come up with a glass. The first ingredient is rum, which can be golden or white. The white rum, however, is the best choice because it is pure and clean. The second ingredient is coconut cream, which is usually sweetened. The third ingredient is pineapple juice, while the fourth ingredient is ice cubes. You can use either a mixer glass or a blender to mix the ingredients.
Pour the mixture into your cream whipper and use one to two cream chargers to infuse the drink with N2O. Use a straight tip to serve the Pina Colada into a tulip glass and garnish it with a piece of peal-on pineapple, one maraschino cherry, and an umbrella.     
Homemade Nitro Cold Brew
This is another refreshing drink that you have on a hot sunny day. Nitro cold brew is made with cold brew coffee that is infused with nitrous oxide.
For this recipe, you need a cold coffee brew and nitrous oxide. Add a cup of medium to coarse ground coffee to one and a half cups of room temperature water. Pour the mixture into an airtight container and allow the coffee to steep for about 24 hours and then separate the grounds from the brew.
Pour the brew into your dispenser and use two cream chargers to infuse the drink. Then serve in a glass and enjoy.  
Silk Sheets Cocktail
Here is another lip-smacking cocktail you can conjure with the help of whipped cream chargers. To make a glass of silk sheets cocktail, you need one and three-quarter ounces of gin, one ounce of house balsamic strawberry puree, half an ounce of fresh lime juice, and ice cubes.
Add the ingredients to a mix shaker to create a smooth consistency. Transfer the mixture to a whip cream dispenser. Then charge the dispenser with two nitrous oxide chargers. Give the cream whipper ten to twenty shakes to properly mix the gas with the ingredients. Serve in a glass and enjoy the drink. 
Creamy Hazelnut Coffee
You don't need the sugary creamers from the store when you can make dairy-free creamy hazelnut coffee, especially when it is a very easy recipe to make.
The ingredients you need for this recipe include one cup of black coffee, a third cup of roasted unsalted hazelnuts, one tablespoon of maple syrup, a quarter teaspoon of salt, coconut cream, and powdered sugar. Blend all the ingredients to create a milky-looking mixture.
Use a nut milk bag to squeeze out the drink. Pour the liquid into a cream whipper and use cream chargers to charge the dispenser. Serve the drink and enjoy.   
Hollandaise Sauce
This emulsion of lemon juice, melted butter, and egg yolk is exactly what you need. The sauce is seasoned with salt and cayenne or white pepper.
The recipe needs 200 grams of butter, 1 tablespoon of lemon juice, 4 egg yolks, 1 egg, 1 tablespoon of white wine, and 1 tablespoon of vinegar. Melt the butter and mix it with the other ingredients. Pour the mixture into your cream whipper and charge it with cream chargers.
Shake the whip cream dispenser at least ten times and then use a straight tip to top dishes with the hollandaise sauce. 
What to Consider When Shopping for Cream Chargers
The most important things to consider when shopping for cream chargers are:
Size of the Cylinder
There are two popular sizes of cream chargers you can consider, 8g and 580g nitrous oxide cream chargers. The 8g size is the one that is commonly used in the food industry because it is universally compatible with most whip cream dispensers.
Compatibility
Choose cream chargers that are compatible with your whipped cream dispensers. The good thing about 8g cream chargers is that most brands are universally compatible with cream whippers from other brands. When using a 580g tank, you will need an adaptor that is compatible with your cream whipper.  
Cream Charger Brands
There are several popular cream charger brands you can consider buying from like GreatWhip, Mosa, ISI, Whip-It, and Smartwhip among others. These companies have a good reputation for producing pure nitrous oxide cylinders. They've also got some of the best shipping and customer services in the industry.  
FAQs
How do you use a nangs cream whipper?
To use a nangs cream whipper you need nangs. Make sure the nangs you are planning to use are compatible with your cream whipper.
When using an 8-gram cartridge, unscrew the holder on your nang cream whipper, insert the nang into the holder with the slender side facing outwards, screw the holder onto the head until the piercing pin pierces the nang to release the nitrous oxide into the cream whipper.
Shake dispenser to mix the gas with the ingredients. You can remove the nang from the holder after all the gas has been released. 
What brand of whipped cream dispensers do Starbucks and Mcdonalds use?
According to individuals working at Starbucks, the company uses the ISI Gourmet Whip Cream Dispenser. This is a multifunctional dispenser that can be used for both cold and hot applications. This unique cream whipper is available in one quart, one pint, and half-pint sizes.
The machines and culinary equipment McDonald's use, on the other hand, are made by the Taylor Company. This company is well-known for the production of shake equipment, smoothie equipment, batch freezers, frozen cocktail machines, frozen and carbonated beverage units, as well as commercial grills.    
How much nitrous oxide is in a whipped cream can?
Whipped cream can contain different amounts of nitrous oxide gas, depending on the size. The smallest can contain 8 grams of food-grade nitrous oxide, the middle-size canister is filled with 16 grams of nitrous oxide, and the largest contains 580 grams of nitrous oxide. The 8-gram whipped cream can is the most popular in the food industry.
Do they still put nitrous oxide in whipped cream?  
Yes, they still put nitrous oxide in whipped cream because it is a key ingredient in every recipe. N2O has good solubility in fatty compounds.
When it is injected into a whipped cream dispenser containing liquid whipping cream, the gas dissolves in the fat content, increasing the cream in size when ejected out of the dispenser. The higher the fat content in the cream the larger will be the created whipped cream. 
How long does cream last in cream whipper?
The fluffy and fresh whipped cream will last up to 10 days in a whipped cream dispenser. When you inject nitrous oxide into the cream whipper, it displaces oxygen to prevent rancidification.
Rancidity usually occurs in food items containing oils and fats. The presence of oxygen oxidates fats and oils, causing rancidity. The N2O doesn't react with fats and oils, which is great because it helps increase the shelf life of your whipped cream.  
How many chargers can you put in a whip cream dispenser?
The number of 8g cream chargers you can use at a time depends on the size of the whip cream dispenser. You can charge a half-pint or one-pint cream whipper with one to two cream chargers without overcharging.
A one-quart cream whipper, on the other hand, can effectively take two to three nitrous oxide chargers. Overpressurizing your cream whipper may not cause it to explode. But that's not economical and you may also run the risk of freeze burns.    
Why is my whip-it canister not working?
The canister probably has a blocked nozzle due to poor cleaning. Cleaning your dispenser after every use is extremely important to ensure that you get rid of all the butterfat from the nozzle. You must also ensure the header of the whipper is facing down for the effective creation of whipped cream.
Conclusion
Finding cream chargers with the purest nitrous oxide isn't a difficult job. All you've got to do is decide which size works better for your business or home use. You can choose to buy in small packs of 24, 50, or 100 count or wholesale cream chargers in 600 count. Alternatively, you can opt for cream charger tanks, which are sold as a single tank or a pack of six tanks. Get the best cream charger deals at GreatWhip.